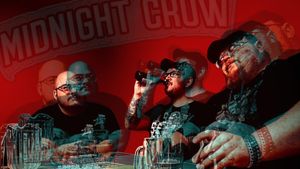 About & Bio BIO
Are you looking for a high energy rock show? Are you looking for original music with some new takes on old favorites? Are you looking to be preplexed at how only three guys can produce such a sound? Well, you have come to the right place!
Midnight Crow in the power trio you deserve. Fronted by Stanley Gene Mindiola III, he brings soul and aggression to his rhythm and lead guitar playing. Being an award-winning vocalist and self-taught guitarist has allowed creative freedom for the band to truly express themselves together and as individuals. Jeremy Welch on the bass guitar is a seasoned musician and brings drive to each song to serve it in the best possible way. The Kenosha native embodies rock n roll to the highest level. And on drums, Aaron Wiggins, a hip hop drummer by passion brings his unique vision to fruition at all times. He has the ability to change the feel of a song on a dime and bring it right back the next moment, Aaron is a true drummer's drummer, and quite possibly... the best drummer in the state.
The boys hope to see you at a show real soon, they leave everything on stage, and hope you have the opportunity to experience it!
Proudly Endorsed By:
CMG Guitars - Warp Core Pickups - Morley Pedals - Scattered Abroad Guitar Works - Spectraflex Cables - Impact Picks - Footloose Effects - Well Hung Straps - Saluda Cymbals - Xcel Drumsticks
-Stanley Gene Mindiola III - Guitar/ Vocals | Menomonee Falls, WI 
-Jeremy Welch - Bass/ Recreation | Kenosha, WI 
-Aaron Wiggins - Drums/ Vocals | Wauwatosa, WI
Latest Track
Buzzards Roost is a tale as old as time... When you get scolded at work, there's really nothing else like it. Join us on a journey of redemption and discipline!
sign our guest book